What is an EMT
Medical specializations are always bound with stress and emotional toll, though it is especially true for emergency services. For instance, for those providing emergency medical care for the patients – emergency medical technicians, or EMT. As hard as this job is, it is also as rewarding and would let you give back to the community first hand. That's why this article will narrate how to become an emt.
Every time you see an ambulance running through the street, from now on you would know that it's packed with EMTs. These crews are the first ones to be there for medical emergencies, car accidents, natural disasters, fires, and other life-endangering situations.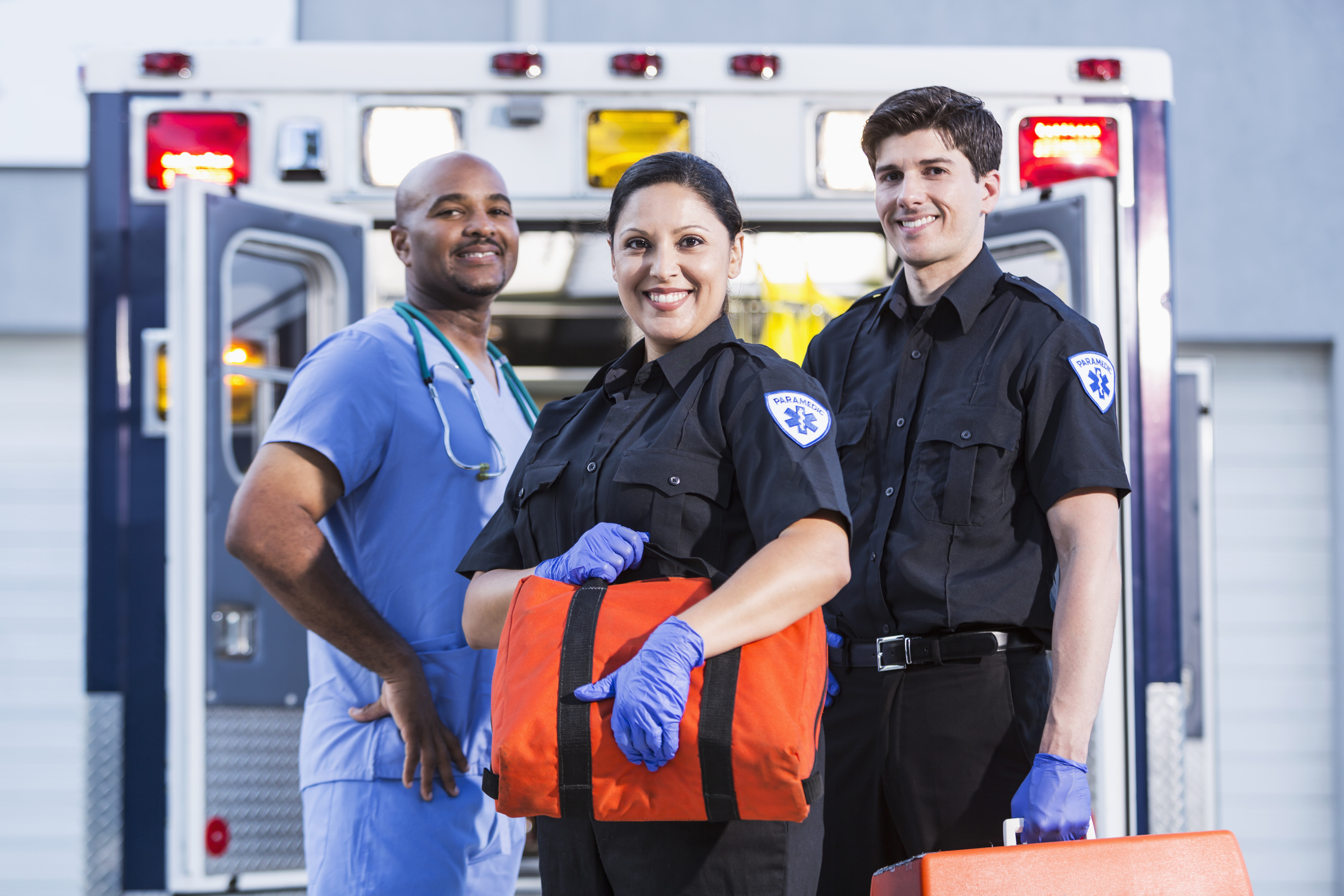 How to become an EMT
Any medicine-related job is not an easy one, and EMT is no exception. As an EMT you will have to pass all the necessary exams and register with the National Medical Technicians prior to receiving recognitions and certifications needed for the job. As for certifications, you would be able to get either EMT-Basic, or EMT-Intermediate, or Paramedic, or several of them one after another, however, each requires its own examinations and preparation.
As a future basic EMT, the courses you would have will cover basic knowledge of the human body, including vital signals, shock and bleeding management, airway management, head injuries, and obstetrics and gynecology. You also should learn proper ways to manipulate patients in various states without endangering their lives, particularly, how to lift and move a person, not just adults, but also infants and children.
In a smaller amount, but also as a necessary part of any program you would be taught ethical issues in medicine. The course is generally rather short and is limited by vital information only.
The practice is the next inseparable part of the EMT training; after all the hours of coursework, EMT students must spend sufficient time in mock emergencies to get familiar with the equipment, learn how to deal with high-stake cases, and practice patient assessment.
All in all, even though basic EMT course is not as challenging as intermediate EMT or Paramedic training courses, or some other courses from different healthcare fields, the program is quite intense and requires a huge amount of concentration during a substantial period of time.
How hard is it to become an EMT
Any medical training is a huge investment of time and effort. For EMT, however, one also has to fulfill a set of requirements in order to be able to take the training.
To be eligible to take an EMT training program that would prepare you for the examinations and certifications, you must have at least 18 years of age, be able to drive and possess a driving license, be a fluent English-speaker, complete at least 10 grades, have a certification in cardiopulmonary resuscitation, or CPR, from the state healthcare provider, not have any criminal background and be vaccinated against measles, mumps, rubella, and tetanus.
How long does it take to become an EMT
Since time is our most precious resource, "how long to become an EMT" is not a rare question. As a rule, an EMT certification program takes one or two years to complete and consists of a set of 120 to 150 credit hours. Depending on your goals, you would be able to choose between different programs with different durations, from EMT basic training with certification that lasts only three weeks to extended two years EMT program. Again, your professional goals and the regulations of the state where you are planning to practice should be those determining your duration. If you would prefer to become a basic EMT, three to six weeks should be sufficient.
I completed the EMT training, what now?
Once you are done with all the in-class work and had your hours of practice, you graduate from the program of your choosing. Now it is your turn to take nationwide examinations that would allow you to start your carrier as an EMT.
The examination and certification of EMTs are governed nationwide by the National Registry of Emergency Medical Technicians, or NREMT, and consist of the Cognitive Exam and the Psychomotor Exam. To take these exams you would need to have the verification of an EMT program and to pay the fee of $70.
The Cognitive Exam
The Cognitive Exam will test the knowledge that you should possess to be efficient as an EMT; this knowledge majorly resonates with in-class coursework. It covers the different pathways in the human body, including trauma on various parts, cardiology, respiration and ventilation, obstetrics, gynecology, etc. In addition, a general EMS operation is to be tested.
If you were not able to pass the exam from the one take, you would receive feedback from the NREMT for your improvement once the results are known. You can take a resit of the exam 15 days after your previous attempt, and the number of resits cannot exceed six. However, after three resits in a row, you would have to take 24 hours of remedial training. If you fail the exam six times, the entire EMT program must be retaken from the beginning.
The Psychomotor Exam
This exam will be available to you only after a successful passage of the cognitive exam. It covers the "practical" part of the job of EMT, such as patient assessment and management, including trauma patients, administering oxygen to a suffocating patient, and many others.
Besides psychological aspects or patients, the clinical part of an EMT work will be tested too. The assignments would include procedures like mouth-to-mouth ventilation, immobilizing long bone fractures and dislocations, upper airway adjuncts and suction, and others that you as an EMT must be familiar with.
The national Psychomotor exam is to be followed by a state-level psychomotor exam, therefore once you pass the first one, you would need to contact your State EMS Office or an instructor for proceeding.
The certification you get is going to be valid for two years before it has to be renewed through NREMT. If for some reason you would not be able to renew it in time, you would have to complete an EMT refresher course before reapplying to certification. Once certification is conferred, it is extremely important to keep it up to date. Their status can be checked at any time through the NREMT website.
How much do EMT trainigs cost
The cost of the EMT training would depend on the level that you apply to. A basic EMT course would cost you around $650, which is cheaper than the intermediate EMT course by $800 (making the second one cost approximately $1450). Finally, a paramedic course would be around $3,500.
When applying for a program, you would find various scholarships available to help you with the training funding provided by the National Association of Emergency Medical Technicians, or the NAEMT. As a basic-EMT student, you would be eligible for the sum of $500, Paramedic students can receive up to $5,000, and Paramedics pursuing advanced education can get a support of up to $2,000.
How to become an EMT in GA
Applying for EMT training in Georgia, firstly you have to go through the Georgia Applicant Processing Service, or GAPS, to submit your fingerprints and get your criminal record history checked. Once you have it done, you can submit the required documents to the Georgia EMS License Management System to get the license of the EMS provider. The process is conducted fully online, so you will not need to worry about hundreds of paper copies.
How to become an EMT in PA
To become an EMT in Pennsylvania, you need to be 16 years old or older. The training program will last approximately 240 hours, including both classroom and lab experiences. To obtain your certification, the written and practical state examinations are to be passed, and once you have the certification, it is valid for three years.
How to become an EMT in NJ
The EMT certification in New Jersey has its own specifications of pre-requisites for the candidates. Those include the age (applying must be at least 18 years old), training program (a state-approved EMT training program must be completed), CPR certification (CPR certificate must be in possession), NREMT examination (such examination has to be qualified by the candidate), nationality (candidates must submit legal evidence of their US nationality), health state (candidates should not have any mental or body ailment), language (English fluency is a must), criminal record (the criminal background screening is to be passed).
How to become an EMT in other places
How to become an EMT in CA
In California, you will need to enroll and complete a state-approved EMT training, after which goes the California EMT examination. The passing score for the cognitive part will be approximately 70%+. The EMT Psychomotor exam is coordinated by the State EMS Office. To schedule any of the exams, you should contact your course instructor and get sufficient assistance.
Once the examination is passed, you can apply to get the certification in the local EMT agency. The procedure will request a background check and submission of additional documents required. Since requirements vary, it would be a good call to contact in advance and receive the information required.
How to become an EMT in NY
A State-Sponsored EMS Course and examination are to be completed by EMT and Paramedic candidates prior to obtaining the certification. Unlike many states, New York does not rely on the National Registry of Emergency Medical Technicians Exam.
Passing the New York EMT and Paramedic exams you would need the very same material as for the NREMT exam, except for some changes that you can find in the local protocols.
How to become an EMT in Florida
Application, education, and examination of EMT candidates in Florida are fairly the same as the process that we already discussed. The special requirements for this state only involve two points; it is the candidate who has to submit the application for the certification and the pertinent fee, and the practical examination is also needed to be passed by the candidate.
How to become an EMT in Texas
There is not much difference applying to EMT certification in Texas from the process we discussed. However, you should bear in mind that EMT certification in Texas is only valid for two years.
How to become an EMT in NYC
As in many other states, a State-Sponsored EMS course and examination is required to obtain an EMT license in New York. The institutions there do not rely on the NREMT Exam, unlike those other states.
How to become an EMT in Ohio
After completing your training and obtaining certification, you would need to get your application approved by the Ohio Department of Public Safety, and you are ready to start your carrier as EMT.
In addition to competitive pay and benefits, EMTs are entitled to referral and attendance bonuses. If one day you would be willing to advance with your career if you manage to become by that time an eligible team member, you could receive free tuition.
How to become a volunteer EMT
Volunteering as an EMT is almost as demanding as an actual EMT job, thus it also requires extensive and quite packed training.
In-class and online hours to attain sum up to over 170 hours of training courses, after which you would have the status of an EMT. You will be taught proper ways to do CPR, handling respiratory and cardiac arrest, seizures, heart attacks, respiratory problems, and many other medical emergencies. Falls, fractures, and burns will also be covered.
In addition, a new management strategy and great practice of pressure management are going to be the skills you will gain in the process.
HERE IS THE VIDEO THAT WILL HELP YOU