Being a notary public requires a certain mindset. Attention to detail, precision, and responsibility are at the top of the list. Sounds a bit nerdy? It does. But the specifics of the job demands a level of meticulousness and diligence higher than average. If you possess those valuable qualities, you may consider getting the job of a public notary, a respectable occupation that will secure you a decent and steady income.
Today, we are exploring the path to become a notary public in the state of North Dakota. Regulations on the matter vary in different states, so becoming a North Dakota notary public may imply a different procedure compared to a California or New York notary public. Hence, our focus is on a single state and its specifics.
How to become a notary in ND? Do you need special notary training? Do you have to obtain an official notary commission certificate? What notarial acts will you be able to perform? What's the validity period of the notary commission certificate? If you have chosen to become a notary in North Dakota, you have lots of questions like that. So let's delve into the topic and answer all of them, and even more.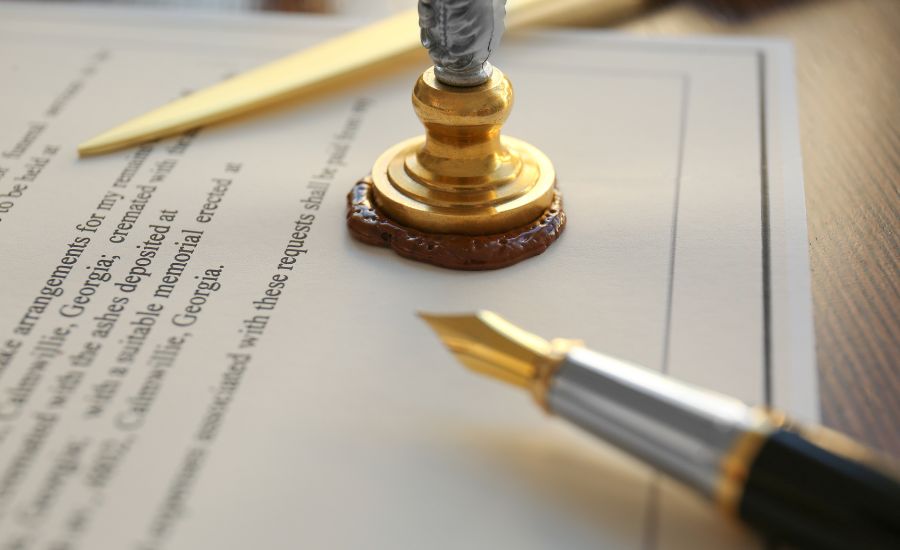 A step-by-step path to a notary public career
North Dakota notaries have to meet certain requirements and go through a certain procedure in order to become a notary public.
#1. Compliance with requirements
To be eligible, you have to ensure that you comply with certain demands the job implies:
Citizenship. Being a citizen or a permanent legal resident of the US is mandatory, as well as a proper command of English. Being a permanent legal resident is also non-negotiable. You need to live and have a place of business or employment in the state. Another option is to live in the county that borders North Dakota.The border county you are taking up residence in must be the one whose state extends reciprocity to the North Dakota notaries. If your county of residence extends reciprocity to North Dakota, you should be eligible.
Age. You need to be at least 18 years old to be permitted to become a North Dakota notary.
After ensuring compliance with this short list of requirements, you can undertake the main procedure.
#2. Acquiring a notary bond
When you are confident that you are eligible to become a notary public in the state North Dakota, you proceed by acquiring a surety bond.
Simply described, a surety bond is a written contract guaranteeing the performance of an act, compliance, or payment.
Your surety bond (or, otherwise, a notary bond) implies that you, as a North Dakota notary public guarantee the fulfillment of all North Dakota notary obligations to protect the people from any financial harm that is the consequence of your failure in holding office as the notary public.
A notary bond costs $7,500.00 and is valid for the entire notary commission duration.
After purchasing the surety bond, you must complete a special paper (notary bond SFN 19355) and have it notarized.
Now you have prepared part of the package to be sent to the Secretary of State.
#3. Application
The next part of the package for the North Dakota Secretary of State is the completion of the appropriate application form. A convenient solution available for North Dakota notaries is FirstStop, which is the North Dakota Secretary of State's online services portal.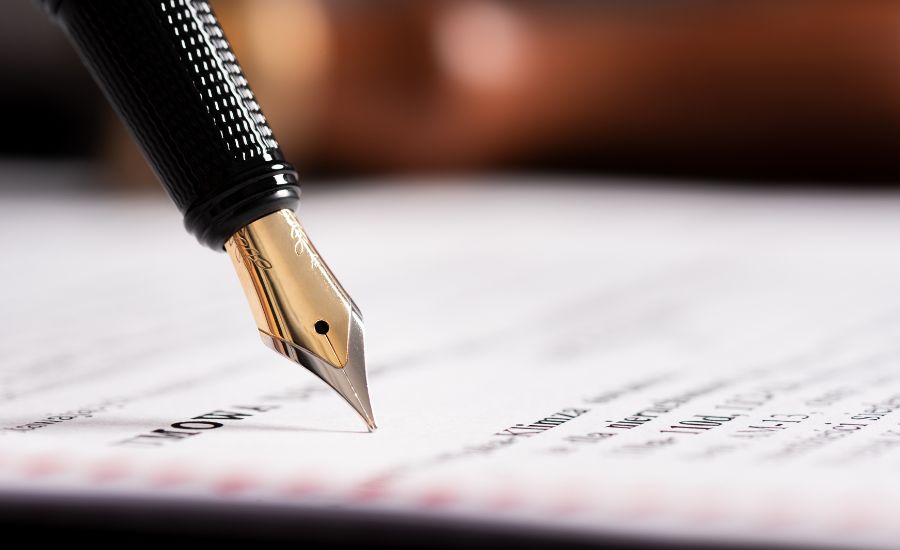 #4. Submitting the documents
Prepare a package for the Secretary of State that must include:
A completed application (SFN 11001) including an affidavit and an oath of office (both notarized)
A notary bond ($7,500.00)
Application fee ($36.00)
The package is to be sent to the North Dakota Secretary of State.
#5. Procuring a notary stamp
With confirmation from the North Dakota Secretary of State, they will forward you a certificate of authorization. Apart from that, you will obtain a verification form for a notary stamping device.
Now you are entitled to have your own notary stamp. Choose a respectable agency producing the stamps and order one for yourself. When your notary stamp is ready, you send its imprint made on the notary stamping device verification form forwarded to you previously by the Secretary of State office.
Your notary stamp will be verified and approved, followed by the official North Dakota notary commission certificate that is provided by the Secretary of State office.
Pay attention to the date that is stipulated on the North Dakota notary commission certificate.
That is the date when you can start providing notary services.
#6. Ensuring against errors and omissions (optional)
Although not mandatory, error and omissions insurance is recommended as it secures protection in case of prospective errors that you, as a North Dakota notary, can make while performing notarial acts. This insurance specifically covers such cases, including any potential legal fees the notary may be obliged to pay.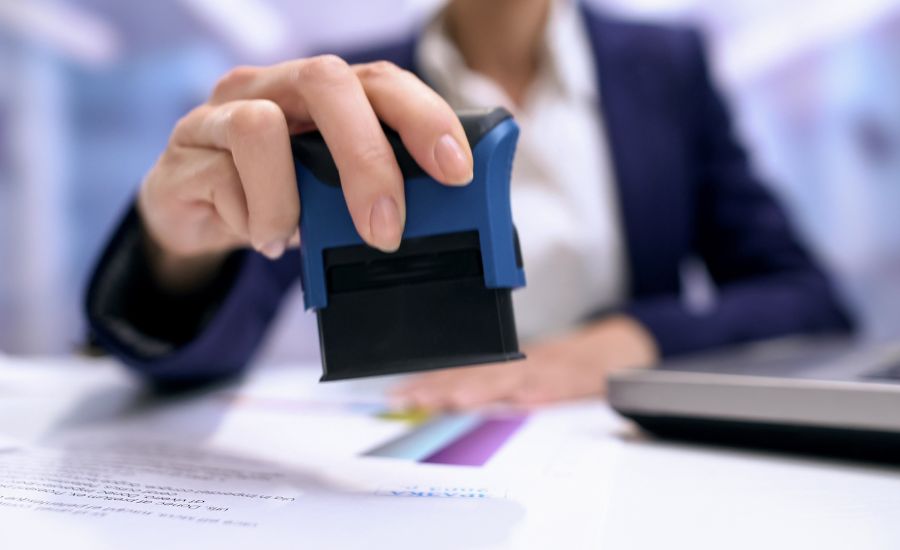 Appointing body
As you have probably guessed, the North Dakota Secretary of State Office is responsible for approving the North Dakota notary applications.
The secretary of state also handles the notary stamp issue by sending a notary stamping device form and verification form to a potential North Dakota notary and inspecting its imprint afterward.
The inspection is followed by the approval of the official notary seal in case of a positive outcome.
The Secretary of State also releases the official notary commission certificate, which provides the necessary authorization to perform notary acts.
Occupational advantages
A notarial certificate gives you an opportunity for a career that is essential irrespective of the economic situation in the country.
All kinds of agencies and businesses, including government agencies, colleges, clinics, lenders, law firms, and many others, need certain notarial acts performed on a regular basis.
As remote online notarization is available nowadays, you have the opportunity to work remotely and perform notarial acts at your convenience (but be aware of a list of requirements for the acts notarized remotely, such as making an appropriate entry in the notary journal and some others.)
A decent and stable income secured by the continuous demand for notary public services is a significant advantage of this respected occupation.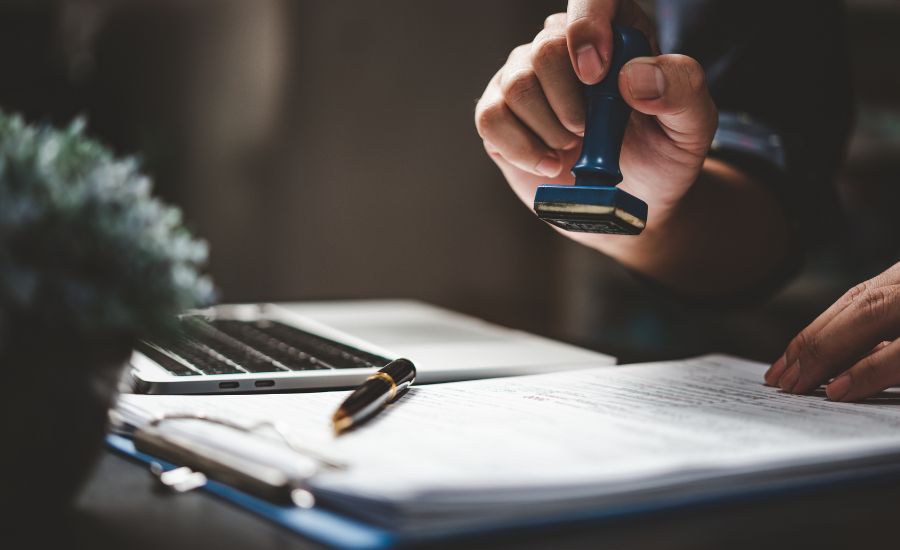 Notary commission term
The notary commission term is limited to a 4-year period if you apply in the state of North Dakota. At the same time, this term may be shortened due to certain circumstances, for example, if the notary public resigns from the position or passes away.
Other reasons for untimely termination are suspension or revocation of the certificate or failure to comply with the essential requirements for the position (e.g. relocation to another state even if it borders North Dakota, but doesn't extend reciprocity.)
Training: option or imperative?
Knowledge is power. And although to become a notary, you are not obliged to take a special course, you can find such an investment quite advantageous.
First and foremost, it will arm you with the knowledge of North Dakota and federal legislation that will not only make you a highly-skilled professional but also protect you from mistakes caused by ignorance of the law.
The knowledge will also boost your confidence, thus attracting more clients who usually trust a confident professional more.
Being up-to-date is critical for any profession, and the notary public is not an exception. It will provide you with additional protection from unintended errors.
This is a personal decision that an individual should make based on their circumstances. Nevertheless, it should be noted that notary training is worth the efforts and funds and can subsequently bring you additional profit or help you avoid potential legal issues.
However, there are several states that do require an examination testing the notaries' skills and knowledge, so if you are planning to relocate to another state, check the regulations in the state you are moving to.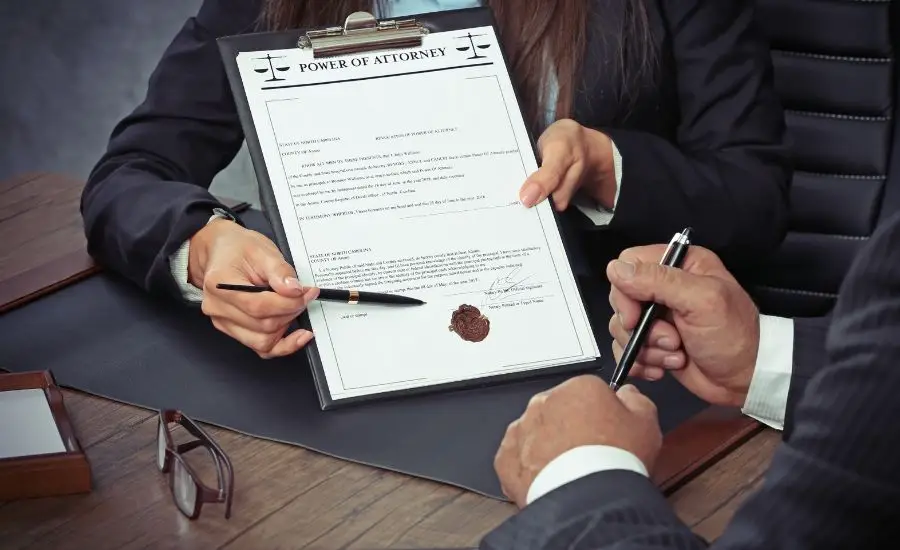 Conclusion
If you intend to become a North Dakota notary public, you have to comply with several requirements that are essential for pursuers of the notary public career. Besides, you will go through a certain process completing a number of forms like the application form, notary stamping device form, purchasing a notary bond and a notary stamp, sending all the required documentation to the Secretary of State, and waiting for their approval.
After all your submitted data is properly verified, you are issued a notarial certificate and authorized to perform notarial acts in the state. You are under no obligation to take any training course or a special test.
The process is not exceedingly complex, and if you are committed to pursuing a career as a notary in the state of North Dakota, you'll have no issues taking all the essential steps to achieve your goal.
FAQ
How much can you charge as a notary in North Dakota?
In North Dakota, the limit for the notary's fee is $5.00. However, it doesn't include any transportation costs. So if the notary has to travel to perform a notarial act, they are entitled to charge an additional amount covering the travel expenses.
How do I become a mobile notary in North Dakota?
To become a North Dakota notary, you have to qualify for the job by meeting the following requirements:
• being a citizen of the US or a permanent legal resident;
• residing in North Dakota or a border county with extended reciprocity to notaries;
• having substantial knowledge of written and spoken English;
• being of legal majority age (18 years old+).
Providing an individual is qualified, they undergo a process of submitting several forms to the Secretary of State's office (a special application form and a stamp verification form), acquiring a surety bond for $7,500.00 and an official seal, and paying a fee of $36.00.
All the necessary documentation is verified and authorized by the office of the Secretary of State, which is the body appointing the notary public for the position.
Is North Dakota a notary state?
Yes, this state can issue official notary certificates for those who want to become a North Dakota notary. The applicants have to comply with several requirements and undergo a special procedure. Upon the verification process, applicants are certified and authorized for a notarial act performance.
Can a Montana notary notarize in North Dakota?
Notaries of the state of Montana are entitled to notarial act performance not only in any Montana county (not just the county they reside in) but also in two neighboring states, namely North Dakota and Wyoming.