More and more activities are happening online every day, and learning to become a tattoo artist is no exception. But the traditional way suggests that to become an established tattoo artist, you need to undergo an apprenticeship with a more experienced master in a tattoo studio.
Let's look into whether apprenticeships are still relevant today. So, can you become a tattoo artist without an apprenticeship?
What Constitutes a Tattoo Apprenticeship
A standard apprenticeship in tattoo shops implies that future tattoo artists observe the work of experienced tattoo artists and carry out their assignments and tasks. In this case, they gradually learn how to handle the tattoo equipment, correctly use disposable tattoo materials, improve their style and drawing skills.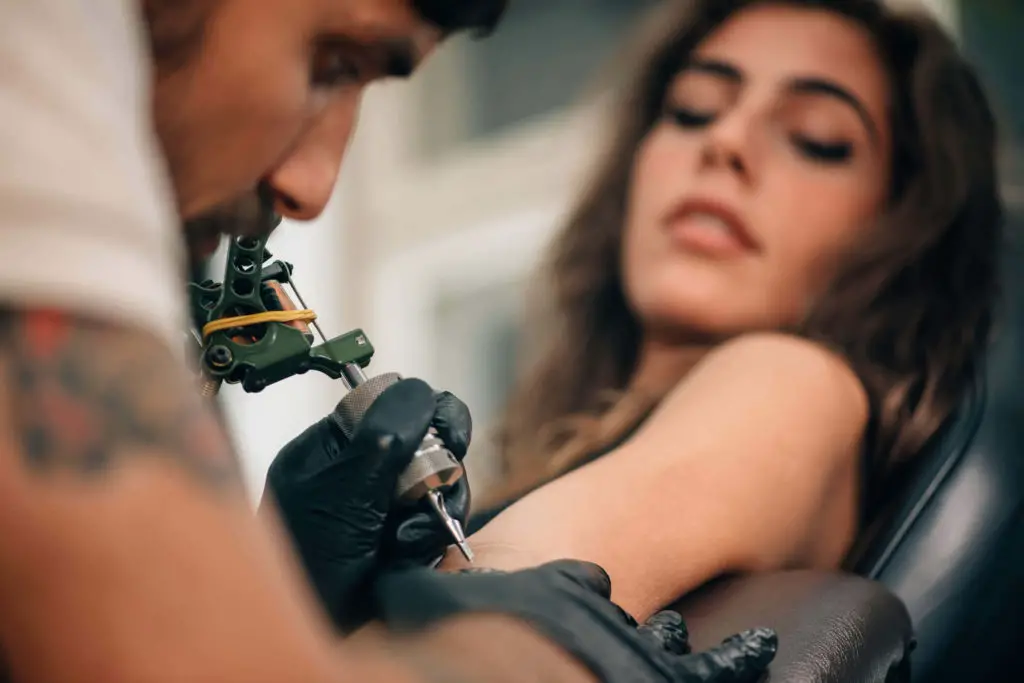 In time, the aspiring tattoo artists will be able to perform their own tattoos and have their own clients in this or another tattoo shop. But before that, they would have months or even years before their mentor would allow them to work with human skin.
Depending on the tattoo studio, apprenticeships can last anywhere from 12 months to 3 years. Sometimes apprentices are even paid, but this is not a general rule.
In some states in the United States, completing a tattoo apprenticeship is a requirement to obtain a tattoo license. It would be illegal to work there as a tattoo maker without the license!
Completing a tattoo apprenticeship with an established tattoo artist can take quite a bit of time, although this way of building a career has both advantages and disadvantages.
What are the benefits of a tattoo apprenticeship?
With hands-on training, a tattoo apprentice can look at a future profession and see if it's a good fit. Tattoo schools teach not only how to draw tattoos, but also how to organize workflow, communicate with clients, and conduct business in general.
For example, you will be trained on how to handle a tattoo machine, how and what kind of ink to order, how to keep your workspace sterile, and more. A successful tattoo artist is in some ways also a manager for himself.
In addition, practicing tattooing, the future tattoo artists begin to build their professional portfolio. Naturally, it is what you need to get a job and gain clients. By the way, here's how to start a photography business with no experience.
Also, a full-time tattoo apprenticeship will keep you from skipping classes and discipline your time. And with professional mentors at your fingertips, you'll get advice and guidance when you need it.
One last thing, you probably won't be the first to be trained at this tattoo studio. Most likely, they already have a structured learning program and experience. And this will certainly make your tattoo apprenticeship easier.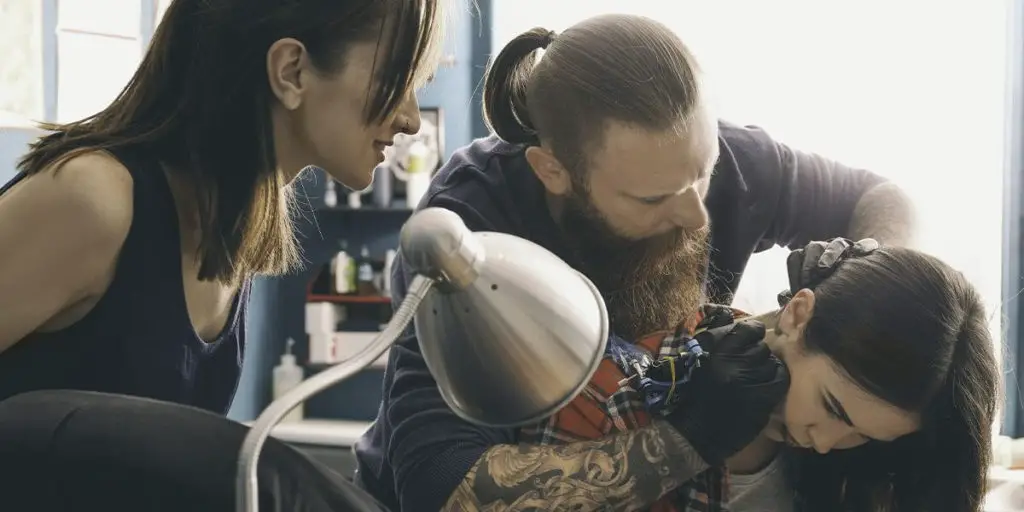 Does tattoo apprenticeship have any downside?
Often tattoo apprenticeships require not only efforts, but also time and money. The average apprenticeship lasts about a year, and the cost is best specified individually.
Of course, training is certainly not an expense, but an investment in yourself. However, you should still weigh your possibilities.
The next thing to consider is your daily schedule. Evaluate whether you can carve out time to attend a traditional apprenticeship. A tattoo school may not be that close to your area.
Then, when comparing traditional apprenticeships and online training, think about the fact that you will only learn what your tattoo trainer knows. Online resources allow you to take a broader view.
Another thing to think about is whether you will be the only tattoo apprentice or will there be several of you. On the one hand you will be a member of the professional tattoo community, but on the other hand the teacher will not give you all his time.
How Can You Become a Tattoo Artist if an Apprenticeship Is Not Available?
Perhaps you would like to do a traditional tattoo apprenticeship, but for various reasons this is not yet available. Or maybe you are ready to become a self-taught tattoo artist and are not even considering other options. Either way, modern technology makes it possible to study tattoo online.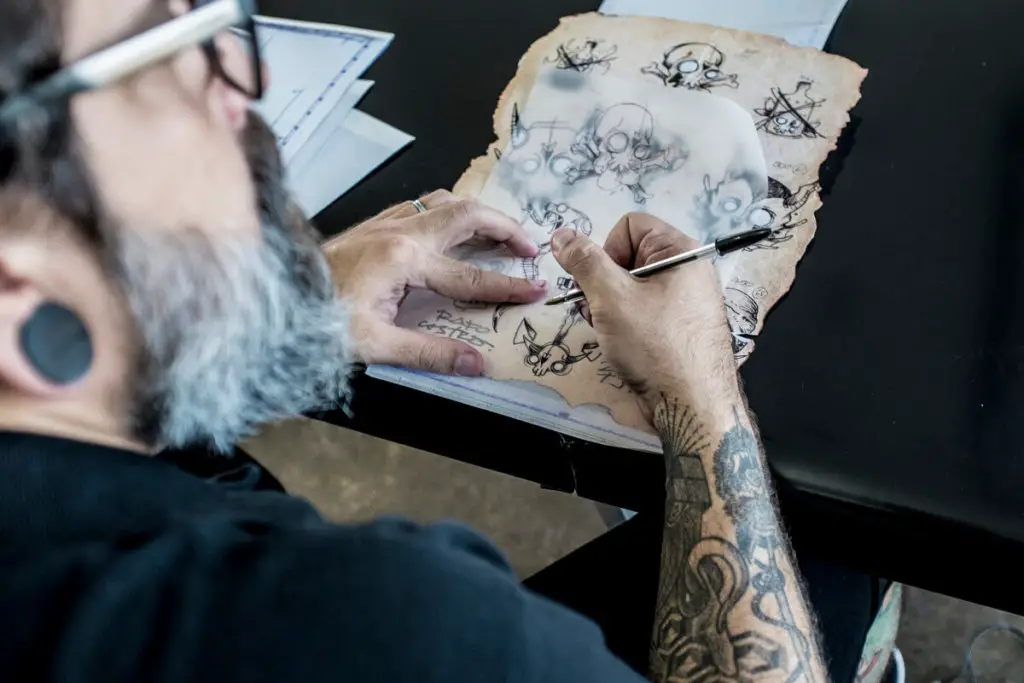 Is online learning reliable enough to become a professional tattoo artist?
As with all other fields, online tattoo training got a strong start in the covid times and is further only gaining popularity. There are tons of online resources available for tattoo training, but the choice should be taken seriously.
The main criteria can be whether the tattoo apprenticeship offers a final exam and whether it gives you the opportunity to become a licensed artist. Having a tattoo license opens many doors for you and gives you extra weight, even if your portfolio is not that impressive yet.
Also pay attention to how strict the requirements of online courses are for aspiring artists. If this is not just a hobby for you, but a conscious career choice, choose the most rigorous tattoo school.
What are the pros of online tattoo training?
Online education gives the aspiring tattoo artists the freedom to learn as intensely as they are willing. Unlike a tattoo apprenticeship, by learning at their own place, a tattoo apprentice doesn't waste time and money driving to a tattoo shop. If you are well motivated, online tattoo schooling is the right thing for you.
Internet technology gives aspiring artists a choice of schools from all over the world, not from what is available in their location.
By the way, you can call yourself lucky if your place has several tattoo studios to choose from.
Reputable tattoo artists who accept apprentices value their reputation as much as tattoo shops do. Therefore, after such training, you can be sure that you will know everything that a good tattoo artist should and subsequently get your tattoo license.
Are there any disadvantages to online tattoo training?
With the freedom to choose your own pace and convenient time for learning tattoos, you still need practice. A tattoo apprentice may use fake skin to practice, but this will never replace the live emotions that you will share with your client. The psychological aspect is as important as a steady hand.
Next, once again, note that some locations require a license for tattoo artists. In these states, only a licensed artist will be able to get a job. Other artists, even taking clients in a home studio, will be illegal.
Carefully research the tattoo laws in the location where you aim to work. Some states require a tattoo apprenticeship for licensure.
Another difficulty that can trip you up is procrastination. Choose self-study only if you are really passionate about tattoos. Stick firmly to your learning plan!
And, speaking of a training plan. You'll probably have to make it yourself or use a ready-made one if your future online teachers provide one. Be critical of prospective mentors so you don't get disappointed at the start. Ask for advice from everyone around who you trust in the field of tattooing.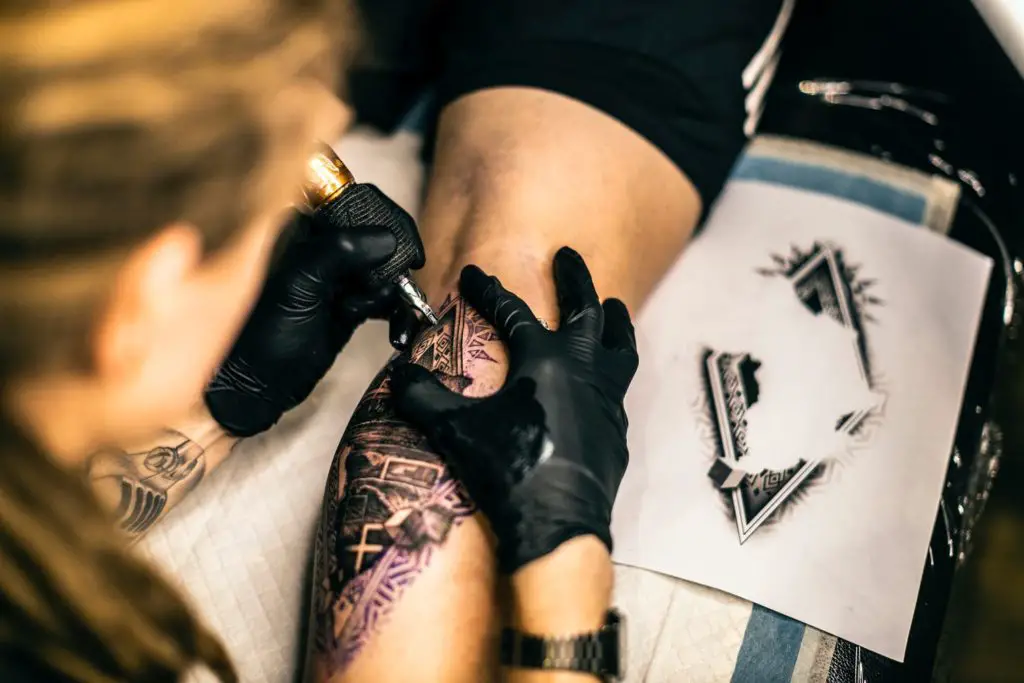 In-Person Tattoo Apprenticeships vs Online Courses
In rating the pros and cons of starting a career as a tattoo maker without an apprenticeship, it became clear that each key feature can be a plus for some and a minus for others. That's why we've put everything together for your convenience, so you can decide what scores more points for you.
Key features of each way to start a career as a tattoo artist
| | | |
| --- | --- | --- |
| | Learning independently | Tattoo apprenticeship in studio |
| 1 | self-motivation | teamwork |
| 2 | personalized art skills | template art form |
| 3 | your own pace | school shedule |
| 4 | your own place | driving to tattoo shop |
| 5 | world wide choice in resources | local tattoo shop limit |
| 6 | searching for practice tattooing | having tattoo practice on studio clients |
| 7 | self-management | enter the tattoo business |
| 8 | tattoo licensing issues | license support |
| 9 | buying your own tattoo equipment | using a tattoo machine at a shop |
| 10 | state-of-the-art tattoo machines | a tattoo machine on which other artists work |
10 things to consider if you want to become a tattoo artist without an apprenticeship
So, here are the key features of each method of becoming a tattoo artist. Carefully evaluate which ones make sense for you personally. In any case, you can start your career as a tattoo artist in one way, and improve in another.
FAQ: Can You Become a Tattoo Artist without an Apprenticeship
Can I self teach myself tattooing?
Yes, you can. If becoming a tattoo artist is your passionate goal, you will definitely succeed! You can research the biographies of famous tattoo artists. In fact, many of them are self-taught, because not long ago tattoo schools as such did not exist at all, and there was nowhere to get a tattoo apprenticeship.
What is the difference between tattoo apprentice and artist?
In the tattoo industry, artists are categorized by their experience and qualifications. Thus, tattoo artists are those who have perfectly mastered the art of tattooing. Tattoo apprentices are those who are at the start of tattooing but already know how to operate a tattoo machine. During the tattoo apprenticeship, a beginner is usually supervised by an experienced tattoo artist. The more experienced the artist is, the more expensive his tattoos are.
How to start tattooing?
The steps you can take today to start tattooing are as follows:
improve your graphic design and and drawing skills,
try to develop your own unique style in art skills,
join up with tattoo fans on social media and in real life,
stock up on your tattoo machine, ink and other essentials,
practice tattooing on fake skin and gradually move on to human skin,
get tattoos for yourself and your friends.
if possible, get a tattoo apprenticeship for your portfolio.
From your first steps and all the rest of your career, learn the latest in medicine, monitor professional tattoo equipment and keep an eye on trends in tattoo art.
How do I become a tattoo artist in NH?
NH state laws require a mandatory license for tattoo makers, which the whole thing is not easy to obtain. Tattoo apprenticeship is a prerequisite for licensure here. NH laws also place restrictions on who can get tattoos or piercings. New Hampshire has perhaps the strictest tattoo regulations in the country.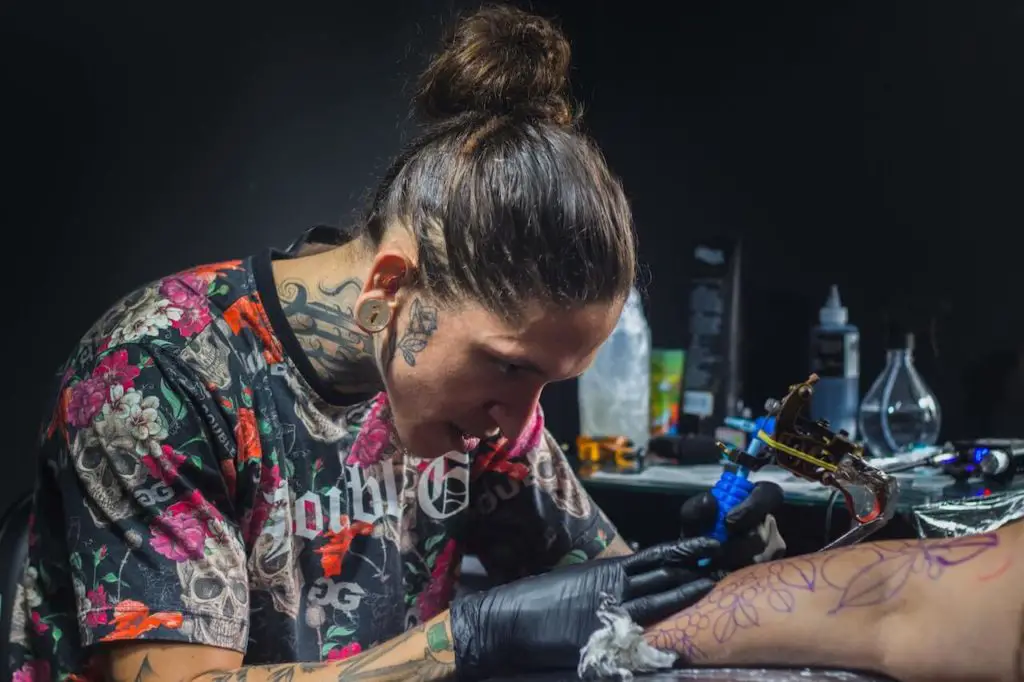 Final Thoughts: Try to Get the Best in Tattoo Industry
Modern technology has made a difference in the tattoo industry. Today, online training is just as valuable as a traditional tattoo apprenticeship. Each of these ways of practicing has its own main features. Evaluate for yourself which of them will be pros and cons for you.
Also, don't forget to look at what the law mandates about tattoo apprenticeship in your location. After weighing all the factors, try to get the best out of each path. We firmly believe that you will succeed in tattooing!